First Movie Theatre Experience
Finally, Azumi had her first movie experience last wednesday. Her Dad was kinda worried at first because she might just run around or get bored in the middle. BUT I'm glad she did well and seems to be enjoying the whole time. It was funny the moment we sat down in our chairs, she was amazed to see how big the screen was. She even said "look mama, HUMONGOUS tv" --- wow! HUMONGOUS?! I don't even use that word.

Well, thanks Sesame Street Podcast where Anzu learns some of her vocabularies. It's a little bargain that is downloadable through Itunes for free. It features Murray and other Sesame Street Muppets with Celebrity guests as they introduce kids to new vocabulary word at the beginning of each episode, focuses on building children's language and vocabulary skills. I must say it works perfectly for Anzu (and for me while I do the chores in the morning)

Anyway,

Because we want her "first movie" experience to be successful, we chose to watch the movie she'll surely love, ANPANMAN at Mycal Warner Cinemas inside the Aeon Mall. It's a 90 minute movie and the main character is the most popular here in Japan

Normally, children age 0-3 years old are free but since it's supposed to be a children's movie, kids are charged ¥900 while ¥1,800 for adults -- kinda expensive huh.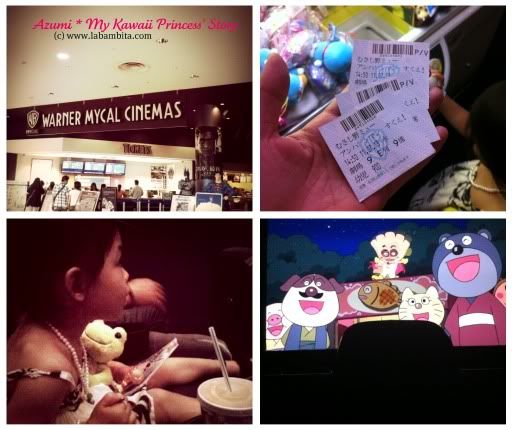 I don't really like Anpanman but it was a fun movie date with my family.
Nothing is more enjoyable than seeing your kid glued on her chair, enjoying the movie.
Looking forward for our next movie date.
Next movie to watch will be the Disney's Cars 2.
Much
♥ ~ ♥ ~ ♥

Sharing this to..