Hello Kitty Mini Carry On Luggage
Here is another cuteness thrill from Sanrio Store. Azumi personally picked this one and I obliged to buy it since she always does good in school.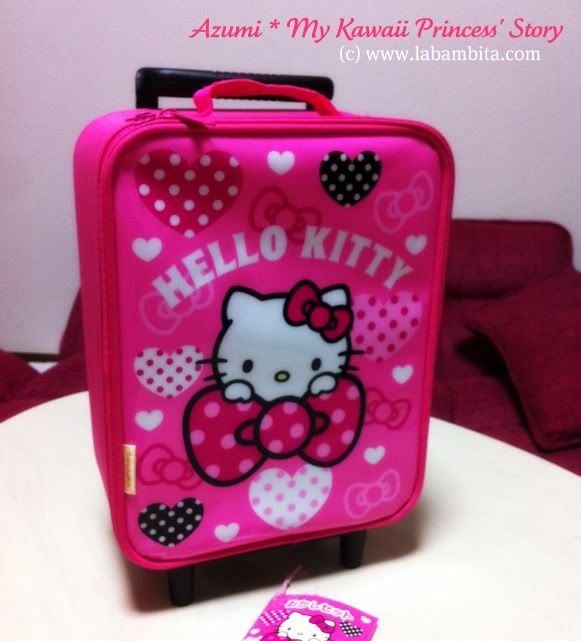 Hello Kitty Mini Carry On Luggage (with 3 snack goodies inside)
¥2,100 ( almost $21 )
23 × 36 × 13 cm
Almost every week, we stop by the Sanrio Store because it is also located at the same floor where Azumi takes her weekly pre-school class. I usually buy her a drink, like Hello Kitty apple or grape juice or Green tea. Well, the store doesn't only sells cute stuffs but also snacks and goodies too.
It has already became a routine for us that we go there before we leave the floor (coz it's just beside the elevator lol). The staff already knows us and they're kind enough to let Azumi play their sample toys.
I always think this store is strategically located since there is no way any little girl wouldn't want to stop and look out through the store that is packed with Hello Kitty and cute stuffs before heading off to the floor's elevator and/or escalator
I guess the place is more for the mom who wants to let her daughter pick out something Hello Kitty as a reward or just simply make their little girl smile.
photopick.
..
[caption id="" align="aligncenter" width="467" caption="She carries it wherever lol"]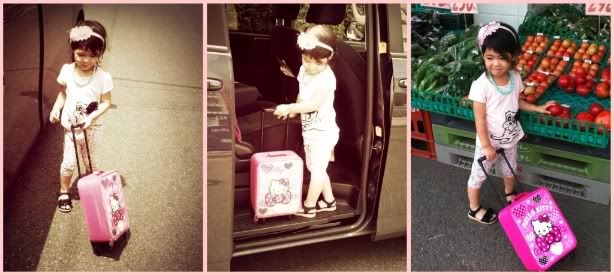 [/caption]
Question:
Do you think it's a great idea to reward your kid for being good? OR never reward a child for something that is naturally expected of them?
Much
♥ ~ ♥ ~ ♥