Caught In The Act
It's funny that I don't even paint my nails and then I would catch Anzu doodling her nails with a red pen in the corner while I am busy with my chores at the kitchen.

It was the reason why there was a sudden unusual silence in our living room during her most Peak Hour. Good thing it was washable and non toxic.

Yeah it happened some few weeks ago.

The mouse is doing something while the cat is away lol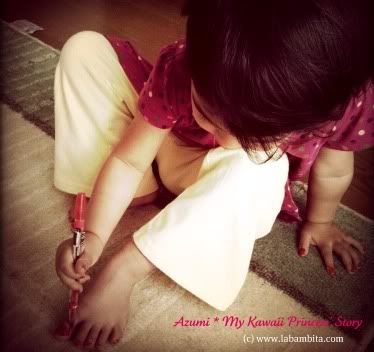 These photos are actually retakes. I asked her to continue doing her nails at the table so I can candidly take photos of her. It's so adorable. However, as cute as it may be I don't think polish on nails at such a young age is a good idea. Nonetheless if you're just using a washable non-toxic pen.
This is a big milestone and I was quite shocked coz I dont paint my nails. Where did she learned it from? Maybe she saw her Tita, or maybe we passed by a Nail Salon at the mall - i don't know.
But one thing is for sure -- this 2 year old little girl is AWARE so I must be more careful.
Much
Sharing this to ...