Favorite Moments (updated)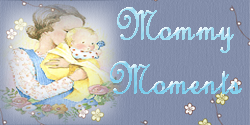 UPDATED:
I think my TOP 3 Mommy Moments entries are the ff:
Treasured Photos
I love this the most because it made me almost cry when I was making this entry. Looking at our (not so) old photos have indeed brought up good memories.
Let's Pretend
I always dream of having my own studio with lots of hi-end professional camera and kits tha's why I enjoy setting up a plot and take lots of photos of my lil girl. She was a cooperative baby model then but now, she avoids looking at my camera lol
Preggy Days
Being pregnant was the most fulfilling thing that ever happened in my entire life. I felt more beautiful, important and loved.
ANyway I would like to share some of our lovely moments with our lil bundle of joy
Mommy Moments (fooling around with my webcam)

Silly Moments
( i missed this entry that's why im posting it now )

of course, Daddy Moments (he shouldn't be left out lol)

more great moments here
here