Hello Kitty Travel Goodies
I just couldn't help but drop by at Sanrio Store every Tuesday, after Azumi's Class. The store is located at the same floor where Azumi is having her weekly class, beside the store is a mini playground and the toilet for kids is just infront of it. SO where do you expect kids would love to stop by?

While I let Azumi play with other kids, I look around the Hello Kitty Store and as always, the shopaholic in me couldn't resist to have one of those cute Hello Kitty stuffs.

So here is my latest cuteness thrill for little Azumi...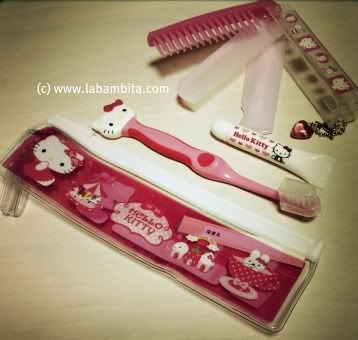 Hello Kitty Travel Toothbrush
Hello Kitty Travel Brush
It's convenient for me to have these travel goodies since we go out atleast 2-3 times a week. I love the Hello Kitty Travel toothbrush which consist of a matching toothpaste, toothbrush with a cap, and plastic case, and the 3 in 1 Hair brush consists of a comb, brush and a mirror. Perfect for kids going to school :)
I don't intend to have Hello Kitty Collection but I know my little Patootee would love this.
Much
Anzu's Mum
♥ ~ ♥ ~ ♥