Strawberry Shortcake Party
Looks like I haven't blogged much yet about Azumi's 2nd birthday party which was held at Philippines, October last year. The last quarter of 2010 was a bit busy months for me that I didn't have much time to blog about the biggest party I have ever organized.

It was my first time to host a kiddie party. Thank God it was a success despite of stressful minor problems caused by my caterer. Azumi wasn't feeling well at that time :( BUT overall, we had a wonderful celebration with friends and relatives.


Azumi's Princess Strawberry Shortcake Party Stage

[caption id="" align="aligncenter" width="401" caption="Kawaii Princess' Azumi's Strawberry Shortcake Party Stage"]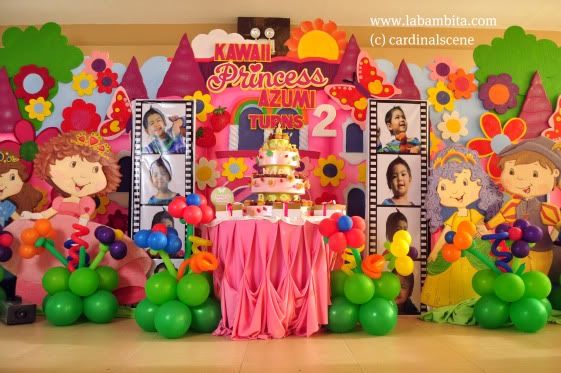 [/caption]

I don't know how to further elaborate our birthday story, I'll  just let this music video tell how the party went. Enjoy Watching
.. (view the photos
here
)


Party date: October 30, 2011
The Venue : Noveou Pavillion @ Noveou Residences, Angeles City
Party Theme:

Princess

Strawberry Shortcake

and Friends


Color Motiff: Pink, Red, and Green

I would like to acknowledge the people and team behind this beautiful and fun birthday party of Azumi.
Ms.
Jen Belen
- the Party host at my daughter's party (my verdict: expectation exceeded)
Kidstar Kastles
- the team who decorated the whole venue, including the stage, entrance, and centerpieces. (my verdict: expectation exceeded)
Ms. Clarissa Banaag of
Frupcakes
- She made the theme tower cupcakes (my verdict: expectation met)
(read a bit more of my kwento
here
)
The stress and sleepless nights I had during the 3 months preparation of this party was definitely worth it. The actual party was filled with fun and laughters with close friends and relatives. I feel so blessed.
Much

Anzu's Mum
♥ ~ ♥ ~ ♥
Also sharing this to