I never thought that it's really possible to make good friends online where we can share our thoughts, opinions, and experiences. I already met a lot of bloggers who have been so so good to me.

It's great to have friends from different part of the world as internet made things easier. Now we can easily connect to someone who lives far from us. The world seems to have become a small place because you also get to meet friends from different nationalities.

Anyway, I'd like to share with you the precious gifts I received 2 months ago from a friend who's s0 dear to me. I never expected this but it made our day when I got this from Mr. Postman.

Love from Malaysia --- for me and Azumi ---




What delighted me most was the message in the card and the quotes from the booklet :)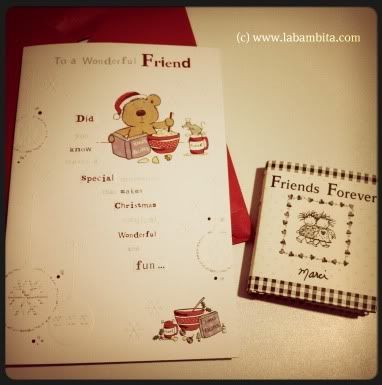 I feel honored to be friends with Haizele, a beautiful Malaysian who lives in Kuala Lumpur with a loving husband and an adorable daughter who's as same age as Azumi. I can't remember when and how exactly we met. BUT I feel so blessed by her friendship, her caring heart, her great love for her family, and her thoughtfulness. I know there are so much more that's why I want to keep this friendship forever. I really hope to meet her someday, maybe we could visit them in her country or vice versa or maybe meet in the Philippines instead. We always dream about that but I'm so sure, we will gonna meet each other soon. It would be  great if our daughters would become best friends, and learn and share their their cultures, language, knowledge and interest.

I'm actually the one who's THANKFUL  for sharing your friendship with me My dear.. It's my pleasure...

"No distance of place or lapse of time can lessen the friendship of those who are thoroughly persuaded of each other's worth."
Much love,
Anzu's Mum