In Her Shoes
Our lil dolly Anzu's latest excitement is climbing up stairs and walking. But let's talk about the latter excitement.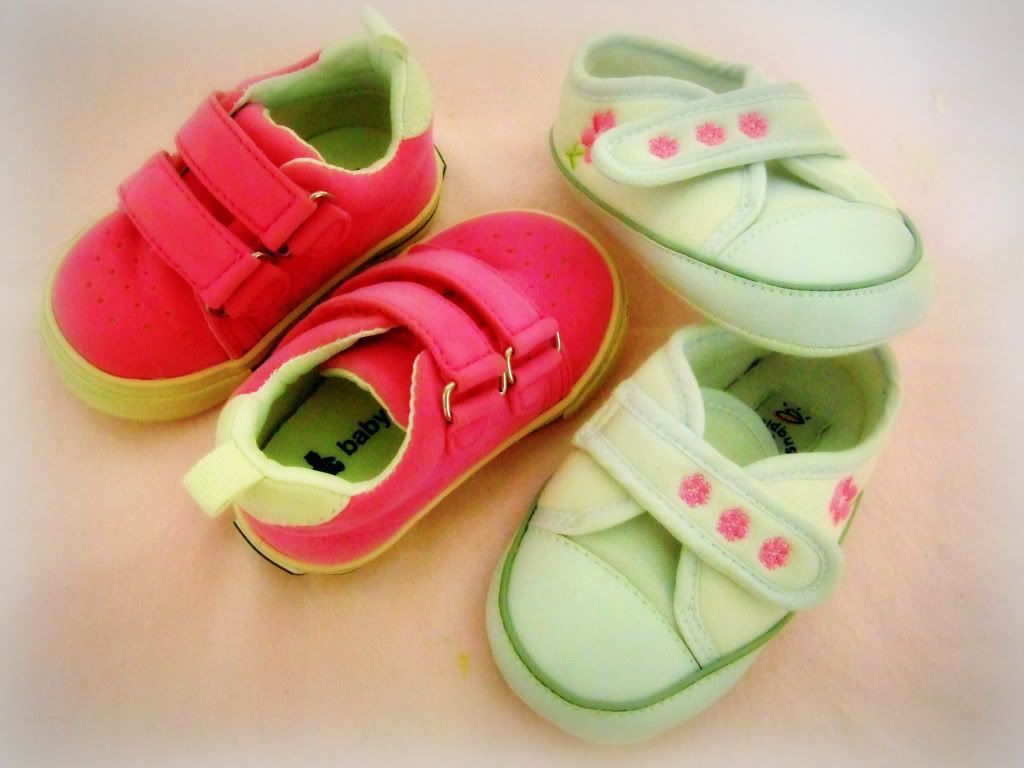 The white pair is actually her first shoes which her granny Baba purchased in babies' r us, along with her new bike (haven't posted it yet). It's still big for Anzu yet so I bought her a new pair of sneakers few days after while we were waiting for her dad. I didn't have intentions of buying her pink shoes but that's the only pair available for her size. It's cute though and its so girly.





It was funny when she was trying on her first shoes. She acted very oddly with them on her feet. She seemed afraid to stand up. But after few minutes, she got used to it. ALthough I had kinda hard time putting them on coz she didn't like it.



Few days after, she's really ready to put them to use. Now she loves taking them on wherever she can go. Yesterday, we had walk in the late afternoon with my mom's MIL, Okasan and her dog Haru Chan... It's been awhile for her to have a good walk eversince she had severe backpains early this year. It's also Anzu's first time to walk with her. Actually, we used to walk together when I was pregnant. She comes by to our house, leaving me no choice but to go with her lol.

Anyway, showing some photos where Anzu was wearing her kawaii shoes. And also my loving friendly neighbors who adore Azumi so much. I love them so much.

Can't believe that shoes are now included in my baby shopping lists. I kinda felt weird at first or it just hit me a bit. I was reminded that big changes has already began. My baby is becoming much less of a baby and getting more like of a kid everyday. She still can't take her few steps without holding onto something but she's getting there. NO need to rush.
Two weeks from now, our lil dolly Anzu will be graduating for toddlerhood. And I still have this smallest bit of denial lol.