Cute Surgical Mask for Kids
It's not unusual to see people wearing surgical mask in Japan especially when Spring time starts as Japan gets a whammy of cedar pollen which leads to runny noses, watery eyes and coughing. People with Pollen Allergy wears mask primarily to protect against the pollen.
Out of respect when one is sick, surgical masks are also worn to prevent the spread of germs when coughing and breathing. That is one of the nice things about Japanese, they care for others, such good citizens.
This year is a sort of a bit unlucky for me. As much as I love Spring, I feel bad because Im already one of those who wears mask everytime I go out. There's something in the air that makes me uncomfortable because of pollen allergy . Those whammy and evil POLLENS! I guess I have to wear masks til Spring is over uhhhggg
Anyway, surgical masks are available for kids too. There are various  cute designs to choose. I bought Hello Kitty Mask for our kawaii Patootee tehee..
[caption id="" align="aligncenter" width="360" caption="Hello Kitty Surgical Mask ( ¥400 ~ at Sanrio )"]
[/caption]
[caption id="" align="aligncenter" width="298" caption="Azumi wearing Hello Kitty Surgical Mask"]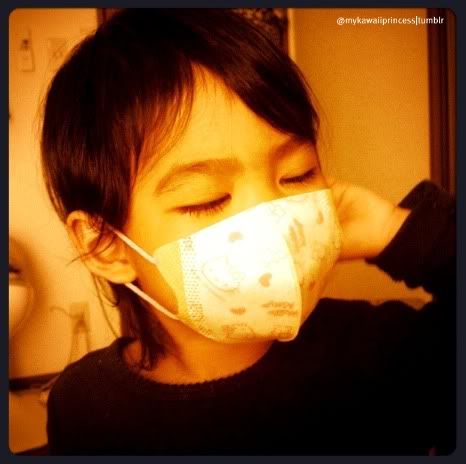 [/caption]
Don't worry. Azumi doesn't have Pollen Allergies. But I'd like her to get used to wearing it just in case.. She still gets uncomfortable after few minutes
Nonetheless, isn't it kawaii?
Wish I can also wear mask without having a weird reaction from anyone in Manila lol
Love lots,
Anzu's Mum ♥ ~ ♥
Also sharing this to...