Unforgettable Earthquake Experience
I've been wanting to blog after the devastating tragedy that hit us last March 11, 2011. There are so many things I want to tell but I don't know how to begin as I don't even know what to say. It's been a week. No words could even describe how terrible I feel about what's going on in Japan. It's unbelievably huge loss and a big devastation. This earthquake was the biggest ever recorded in Japan and the casualties potentially increases each day.
However, I'd like to thank everyone for expressing their concern for our safety over the past few days. Thank you for the outpouring messages in my blogs, email, twitter and facebook that I hope I have replied them all to let you know that
we are SAFE
. My family in the Philippines were all also worried and been asking us to go home. BUT I have to tell them we can't decide at the moment. We might leave if the situations becomes too risky to stay but not on this time.
Fortunately, we live far from the tsunami area and didn't experience any damage caused by the Magnitude 9 earthquake. Anzu and I were in the 5th floor of the mall when this thing happened. The quake started small and when the shaking didn't stop, I immediately took Anzu from the stroller and got ourselves under the table. Good thing the table was just infront of us. I called my husband right away and told him where exactly we are. The shaking lasted for 3-4 minutes. I immediately posted a status in my FB wall while we were still under the table waiting for anyone's instructions (thank u iphone). It was indeed an unforgettable and scariest experience. Thank God buildings here are designed to withstand the earthquake. Para nga kami dinuduyan nun lumilindol, very smooth ang dating. People never panicked. We were instructed to use the stairs. People were helping each other without thinking only of themselves. Some offered to carry my things and stroller while I carry Anzu going dowstairs. It's really amazing to see how these people handle such situation like this. I admire the calmness, concern and the cooperativeness. SALUDO AKO!
I felt relieved after those several aftershocks but never I imagined that there will be worse scenarios few minutes after the strong earthquake. As always seems the scariest thing about earthquake is not the shaking or the buildings breaking down, but the possible triggering Tsunamis. It happened so fast, within the day, thousands of people lost their lives, lost their loved ones, and many are still missing.
The next day and the next days were so depressing while we were glued at the tv, helplessly watching the horrible footages of the 10 meter Tsunami destroying the towns in Iwate and Fukushima Ken. It's exhausting to see this disaster went from bad to worse. Tsunami is unbelievably uncontrollable and strong. It can destroy a city (or cities) in just a snap. We were so worried about our friend who lives near the devastated area because we couldn't contact her for few days BUT thank God we finally heard from her last night.
We were lucky. Our family and friends were safe. Every morning is a blessing. Seems everything is normal but as soon as you turn on the television, it hits us back to reality. It's really depressing to see people who have lost their loved ones, their homes, their everything and those who are still unable to find their families. There are stories from people who have managed to escape and yet witnessed how tsunami swept their loved ones away. I can't imagine how it feels. It's unbearable to see the sadness in their faces while they were trying to be calmed. If only I can do something to lessen their devastations --
Meanwhile, due to possible power shortage, the first ever blackout which is conducted by TEPCO (Tokyo Electric Power Co), has started to roll in 9 prefectures and divided into 5 groups (each designated areas) by schedule, maximum of 3 hours a day. We are in group 4 and haven't experienced any blackout yet. BUT people are really cooperating by turning off unnecessary lights. Establishments are doing the same. This might last until the end of April.
The nuclear situation is quite alarming too but so far everything is still safe here. Thank you very much for the people who've been working so hard, risking their own lives just to keep the nuclear reactor cool and prevent more fatal casualties. My highest respect to them, and to the Japan government who almost never sleeps because they are taking part of working out this horrific tragedy. I can't understand why people in our place were panic buying!
BUT STILL, people here are amazing. No hysterical reactions, no looting, no complaines. People practically observe order. They stood in line to buy foods. Same with gasoline stations, the line was like about 2km but they all waited for their turn just to fill their tanks maximum of 20 liters.
From day 1, I have seen how humanity comes together in this difficult times. It's astonishing how Japanese people do their best to go through this all together with dignity. I never thought it is possible. They are respectful to one another and calm inspite of the terrible things happened ( and still happening ). This is how we should act in times of turmoil because being hysterical won't change a sad situation. Respecting one another turns everything into positive -- lesser conflicts, nice feeling, voluntary cooperation. I am grateful that I'm learning what
humanity really is.
My highest respect for Japan and its people.
Please join us in praying for all those affected by the earthquake and tsunami. PRAY FOR JAPAN to overcome this great crisis.
Thank you so much.
** more **
day 1
This was the scenario right after the big earthquake hit us. The building was swaying during the aftershock (but you can't see in the video). You'll see how calmed the people were. No one panicked.
The transportation was paralyzed. Trains stopped. Phonelines were aborted. People were stranded and couldn't go home. Despite of this, no one was taking advantage of the other, no crime happened that night. People were patiently waiting for their turn. Its unbelievable to see the long line and people really observed order even if it would take them long hours to have their turn. Some people walked their way home. Heavy traffic every road
Day 4~
Panic buying of food and basic supplies have left supermarket and convenience store shelves empty.
Water, milk, breads (even cookies), and rice were sold out
Flashlights, candles, batteries and cell phone chargers are sold out everywhere
[caption id="" align="aligncenter" width="254" caption="empty shelves due to panic buying"]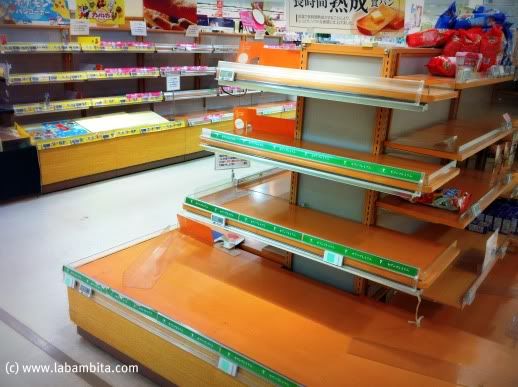 [/caption]

[caption id="" align="aligncenter" width="254" caption="Now I should seriously learn to CONSERVE WATER"]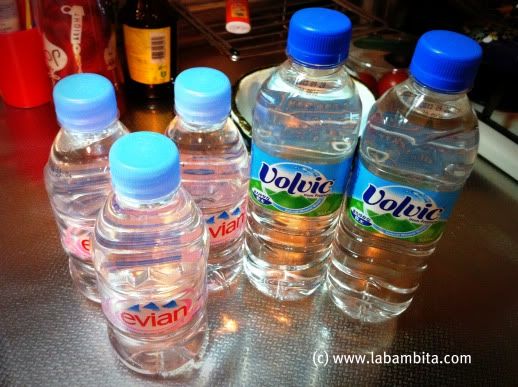 [/caption]


People were rushing to gasoline stations to fill up their cars. Some gas stations imposed limits of their sale by 20 liters per car. There were a line of about 100 (or more) cars waiting to fill their tanks every available stations.
We've been looking around but no luck. The last station we went have this sign put on the last car of the line.

[caption id="" align="aligncenter" width="254" caption="SOrry no more gasoline supply"]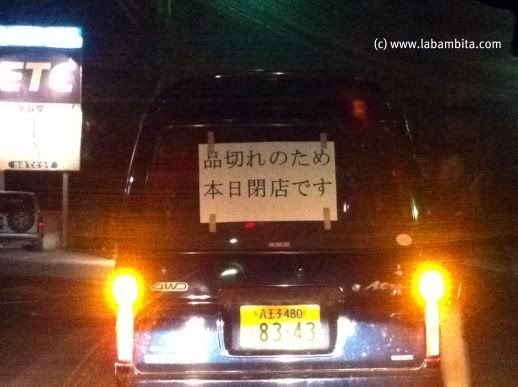 [/caption]