I think spring is almost here in Tokyo that I don't need to wear a down jacket during the day, although it's still cold and windy during at night. This past few days, I'm having this "sneezing phenomenon" which really makes me uncomfortable especially when I'm at work. Guess what's the culprit? THE CEDARS! In this season, pollen flies all at once and causes alot of people to have Hay fever.
Anyway, before I blog more about the loveliness and not-so-good about Spring time ( which is actually my favorite of all seasons ) in my next posts, let me share you some of Anzu's snowy photos taken last month.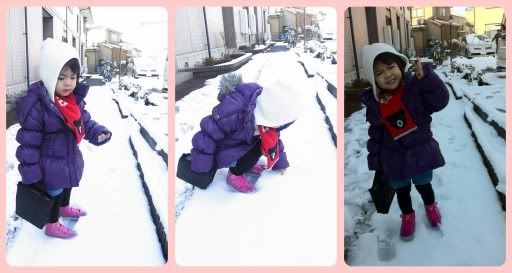 Snow in Tokyo is a rare occurrence, maybe once a year and mostly only for a moment. That's why we had a pleasant surprise when it started snowing~ on Valentine's day itself, very romantic though but not when you're driving on your way home. We were on our way to Red Lobster when the snow started to fall and it blanketed the highway in just few minutes.
Hope you are all super well!
Much love,
Anzu's Mum